The Hockey Club of Timperley WA15 get New Sponsors

Photo credit Messenger Newspapers
Lucky Timperley Hockey Club have welcomed Coolair the Air Conditioning Specialists as new sponsors. The mens Timperley Hockey club is attempting promotion this year from the North Hockey Mens Premier Division to the National League and they are hoping that the Manchester air conditioning company's backing will help to propel them there.


An engineer for the company Andy Wareham, is the Timperley first team's vice captain he said of the team that there is great spirit among the squad and many devote free time to coaching junior sides. Timperley Hockey Club young players are taught more than hockey skills, friendships grow and they develop communication and leadership skills.
Coolair's finance director Helen Sharratt, commented that her company's sponsorship of the Timperley team was a natural fit in terms of the values that they share in terms of striving for excellence, developing young people and supporting the local community.
The Timperley Hockey Club's marketing and sponsorship manager Jackie Morgan, expressed delight that Coolair is now the main sponsor of the mens first eleven team. She says that the contribution from Coolair will help to pay for coaching, league and tournament entry fees and team kit as the timperley team strives to become a national league side.
Timperley Hockey Club is very well established in the village, the men's team includes Ben Entwhistle and Ben Nicholson both of whom were included in the England Under 16 squad last season. Both young men come from hockey playing Timperley families.
Timperley Estate Agent Is Honoured With Award

Photo credit Messenger Newspapers
Dawn Betney from Timperley has been awarded the Gascoigne Halman's Negotiator of the Year Award, the award is given to a Gascoigne Halman agent that is considered to have given the best service to their customers and who has gone above and beyond their daily duties.
Adam Ravenscroft, the manager at Dawn's branch of Gascoigne Halman said that they were delighted at Dawn's success particularly because Dawn had only started working full time this year.
Dawn has really strived to be top of the leader board at Gascoigne Halman, one of her strengths is that she lives locally in Timperley and this has been instrumental in her success in the housing market. Timperley is becoming one of the more popular places to live in south Manchester because of its proximity to the Cheshire countryside, its excellent schools and its transportation links
Timperley Studios Broadcasts Sound for Manchester

The Broomwood Community and Wellbeing Centre in Timperley is now home to Trafford's very first local radio station on DAB digital radio. Trafford Sound is both managed and operated on a volunteer basis. It is funded from donations and grants and fundraising events organised by volunteers. Although the idea has been around for over eight years, the station only started broadcasts 2 years ago and has since then been available on the internet. Now as a digital station it can be accessed in cars and homes without the internet and is therefore available to a much wider audience
Pete Brettle the content controller for the radio station told the Messenger Newspaper "Until now we have only been on the internet but now we are going to be broadcasting on digital DAB radio," he added that now as a result he believes the station will grow in strength and numbers.
The first day of broadcasting was in October and in the afternoon the Mayor of Trafford Johnathon Coupe joined presenter Susan Leigh on her chat show and then on the Drivetime show at 4pm Pat Reeves the former Piccadilly Radio DJ presented.
The radio station has a daytime schedule during the week to include information and local news and the shows include guests and well known figures discussing different community groups and local activities .The music on Trafford Sound will be wide ranging and the evening shows feature a range of specialist and minority interest programmes.
Saturday Sport will feature at the weekend and will focus on local sporting meets and report on local teams across the area.
Peter Brettle said: "We have made ourselves an organisation that people can come to and put their message out. That's how we see ourselves, we are the conduit for information for other people. They come to us and come on one of our shows and let Trafford know what they are doing.
Timperley Library Redevelopment 4 Sites are Shortlisted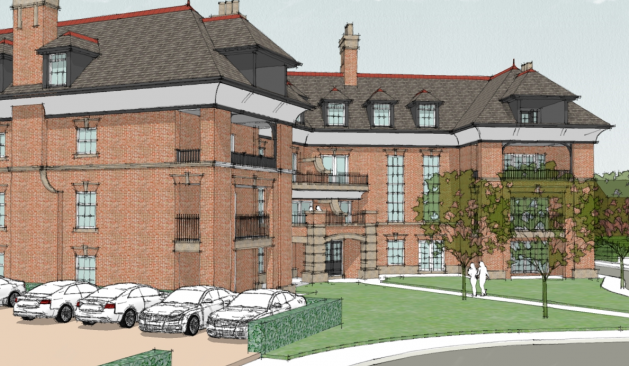 Photo credit Placenorthwest.co.uk/news
The long overdue redevelopment of Timperley library is anticipated to start before long, it is estimated at a cost of £7 million and the site will contain a new medical centre and apartment complex on Stockport Rd in Timperley. Four dveloping contractors are on the shortlist for the project which is going to involve a health and community care centre as well as the library and an apartment block on adjacent land.
The community centre will consist of two floors and include a surgery and a retail unit on the ground floor with library and kitchen on the first floor and office space on the second floor. Currently a car park on Baker st the adjoining building will be redeveloped into a four storey apartment block of 22 two bedroom apartments and three one bedroom apartments. As a result of the lost parking facility a replacement car park will be constructed to provide 116 spaces with 25 allocated to the apartments and 14 to the clinic.
This project is central to the development of Timperley village and will provide much needed central services that are contemporary and will enhance the already pleasant experience of living in Timperley.