How to Remove Pet Hair From Your Carpet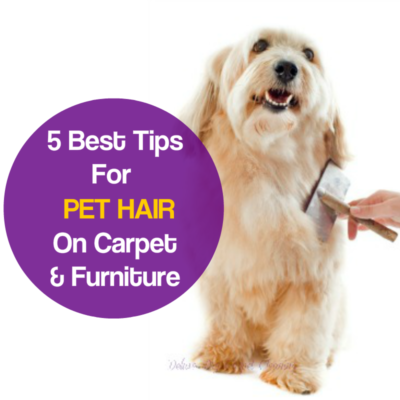 Pet owners often struggle to keep carpet and upholstery looking good when there are pets in the home.One of the most basic problems that we see at Deluxe Dry carpet & Upholstery Cleaning  is pet hair.
Even pets with short hair shed lots of hair and if your pet has long or thick hair it can be a very big problem, most people are concerned about the pet hair on carpets and rugs and on furniture and clothing.
We have many clients at Deluxe Dry Upholstery Cleaning Stockport that are pet owners and we have compiled our 5 best tips for dealing with Pet Hair in the home :
1. Get a Pet Vacuum
Vacuum cleaners for dealing with pet hair are sold by most big vacuum brands. If you are a pet owner it is worth investing in one because they are designed specifically to deal with pet hair. Instead of struggling with a vacuum that gets blocked all the time with hair and that doesn't have the suction power, invest in a vacuum such as the Dyson DC Animal 40 described for homes with pets. It features stronger suction with a self adjusting head for all floor types and a tangle -free turbine tool to remove hair from carpets and furniture.
2. Groom Your Pet Regularly
Grooming your pet can dramatically reduce the amount of hair being deposited on your carpets and furniture and clothes. If you do it gently you and your pet will enjoy the grooming which is like a massage! If your pet is not frightened of the vacuum cleaner, many vacuums have a grooming tool that will remove the hair directly. Alternatively use a grooming tool to comb through their coat every few days and deposit the hair into a bin bag for disposal.
3. Use a Pet Hair Brush BEFORE Vacuuming
You can buy rubber brushes to remove pet hair at pet shops and on online shopping sites. They are excellent at collecting pet hair from furniture and do not require a great deal of effort, you can use to collect most of the pet hair from your upholstery or carpet before you vacuum or in between vacuuming. They are constructed of rubber bristles which will not scratch or spoil even delicate fabric and they can be used on carpet or even hard floors. Remove the collected hair into a bin bag and rinse the brush after use. You can buy a long handled varieties of this brush to use on carpets and hardwood floors.
4. Train Your Pet To Sit on a Blanket
If your pet likes to sit on your sofa or furniture or has a favourite place to lie on your carpet then give him his own blanket or pet seat. A dog or cat sheds hair and also body oils just by lying on your carpets and upholstery and over time this will create a soiled area that will require professional cleaning. Minimise this effect by putting down a blanket or pet bag wherever your pet likes to sit and if you persist your pet will enjoy having his own sitting place. Wash the blanket regularly to keep it fresh and clean.
5. Have Your Upholstery Cleaned Professionally by Deluxe Dry Upholstery Cleaning

Deluxe Dry Carpet and Furniture Cleaning serves the Greater Manchester, Bolton and Stockport areas. We use a specialist Dry Foam Cleaning method to clean all types of upholstery and fabrics. Cleaning is very thorough and your furniture is dry in less than an hour.
Call us to make your appointment today Deluxe Dry Carpet Cleaning 0161 768 0208