Removing Newspaper Ink Stains on Carpet
Newspaper Ink is annoying when it gets on your hands and clothes but when it gets on furniture or carpet then it can look terrible! Big dark patches on the arms of your favourite chair or sofa look scary but Deluxe Dry Carpet and Furniture Cleaning Services are here to help!
Read on for easy ways to remove these ugly stains yourself or call Deluxe Dry carpet and furniture cleaning services 0161 768 0208 to make an appointment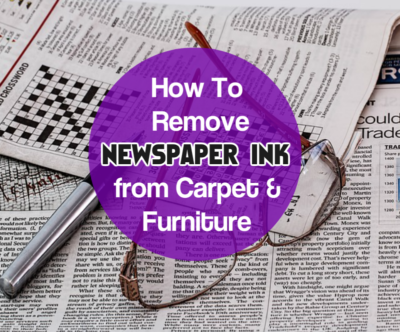 If you are a newspaper reader then you may already have dark areas of newspaper ink on the arms of your sofa or on your light coloured carpet or rug.
You may not even notice the stains at first but if you read your newpaper in the same place the dark ink will build up on the arms of your sofa or on the carpet where you drop the pages. Suddenly you will wonder where those dark patches have come from!
Newspaper ink is based on soy pigments but often contains petroleum ingredients also — So a 2 step stain solver approach is needed. First a solvent to remove the the petroleum based components and then a second water based cleaner to remove the dark pigments.
With a little patience and some affordable cleaning agents you can remove newspaper ink from your carpet easily, if you have questions you can call Deluxe Dry Carpet Cleaning Cheadle & Stockport at 0161 768 0208
Assemble Your Stain Cleaning Supplies
Do you have a stain basket? Now is the time to get it out and use it.
Don't have one ? Read how you can make one and have it handy for everyday stains Here >>>
You Will Need
Desolv It stain remover spray or Hairspray
Several clean dry white cloths or Microfibre towels
2 small spray bottles
Bissell or Vax carpet cleaning solution
What To Do
Hair spray or Desolv It spray will dissolve the oily part of newspaper ink stains.
Spray in light bursts.
Spray a small area, then take a clean cloth and immediately blot the area you sprayed.
Work quickly from the outside of the stain towards the centre of the stain so the colour doesn't bleed and you don't spread it.
Don't saturate the stain.
Repeat until you have removed the dark colour of the stain.
Now add Vax or Bissell carpet cleaner to tepid water in one of your spray bottles according to the manufacturers instructions. Mix it up.
Spray the area you have just cleaned in light bursts and blot with a clean dry cloth as you spray.
Don't over wet the carpet.
Work from the outside of the stain into the centre.
Don't rub or scrub the carpet fibres.
Blot and press the clean cloth into the carpet firmly.
Vax and Bissell carpet cleaning solutions do not contain detergents, they will not leave sticky residue but I always like to give a final spray withthe clean tepid ( not hot) water in the second spray bottle and blot firmly with another clean dry cloth.
How To Prevent Newspaper Ink Stains
Its always better to avoid stains if you can … then you don't have to clean them up.
Don't read your newspaper or magazine on the sofa if it is a light colour.
Don't drop the pages of a newspaper on to a light coloured carpet
for more information about cleaning carpet stains click here
Call the Professionals
If you don't feel like stain cleaning your carpet call Deluxe Dry Carpet Cleaning at 0161 768 0208